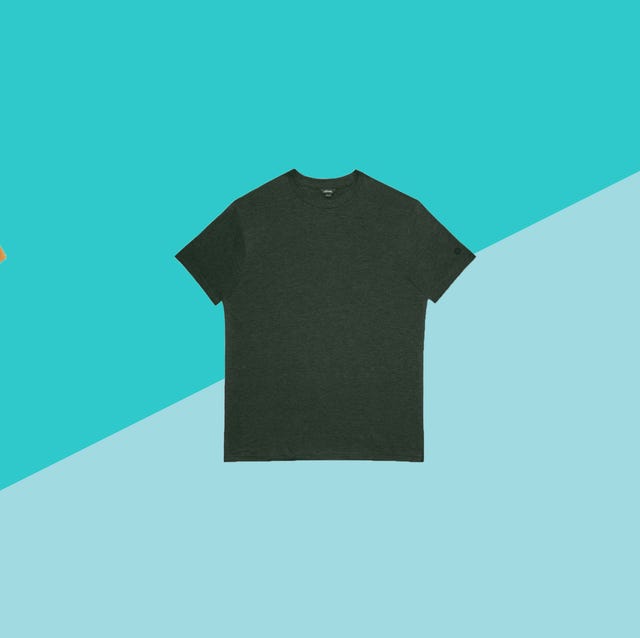 Hearst
The best t-shirts for women are designed to be worn for different occasions. Whether you're lounging around at home or working out at the gym—it's one of the hardest-working items in your wardrobe.
If you've worn t-shirts that feel tight after one wash or ones that seem to turn see-through once you step in the sun, you're definitely not alone. The tees you wear can make a difference in how you go about your day (and your outfit choice!), so it's essential to have a solid selection of t-shirts to choose from.
Fortunately, there are different materials and unique styles that will fit just right and keep you feeling and looking fresh. The main factors to look for are fabric and fit. Popular fabrics include cotton and polyester, but you can also look for t-shirts made from materials like bamboo, which is a soft and breathable fabric, and merino, which works great at preventing odor thanks to its high quality and fine weaving.
One of the best things about donning a t-shirt is that the wardrobe essential pairs so well with so many things. Add a t-shirt beneath a blazer and pair it with jeans and heels for date night. Throw a tee on over a sports bra for a quick workout top and pair it with leggings and walking shoes for your next run. Or add a warming layer when the weather turns cold with a long-sleeve t-shirt that won't look bulky under your favorite sweater. The ways to style the item of clothing are truly endless!
To help make your life easier, we sorted through loads of options and rounded up top-rated picks. From chic scoop necks to long-sleeve tees with fancy details, read on to find the best t-shirts available.
Advertisement – Continue Reading Below
1
Perfect-T Short
Customers of all ages love wearing this t-shirt—making it true to its name, "perfect." It's ultra-light, made from 100% cotton jersey (which feels super soft), and provides a contoured, slim fit. The label is also designed to be easily torn off, so no itchy necks in sight! 
2
Essentials 2-Pack Crewneck T-Shirt
Amazon Essentials
amazon.com
$16.90
This duo essentials t-shirt pack features two different colors. And we're fans of the navy and burgundy pack. Made from a cotton and elastane blend, these t-shirts are close-fitting but still comfortable to move around in. "They are soft, aren't see-through, and fit amazingly well," wrote one Amazon customer.
3
Whisper Cotton Rib-Crewneck Tee
Madewell
madewell.com
$19.50
Available in seven colorways and 11 sizes (including four plus-size options) this t-shirt is a favorite for a reason. The loose cut makes it the ultimate comfy option, and it's made of cotton and machine washable!
4
Loose Fit T Shirt
Cutekolve
amazon.com
$19.99
Looking for a classic long-sleeve t-shirt? This one fits the bill, and is available in a number of colors. With over 1,000 reviews on Amazon, customers are really loving this shirt. One satisfied customer wrote: "Needed a comfy basic black long sleeve shirt that would look good with leggings and I think I made a great choice. It's loose like I wanted but still figure-flattering. You can wear the sleeves down or scrunched up if it's warmer. I especially like the cut of the bottom which is longer in the back to cover your tush."
5
Short Sleeve Colorblock T-Shirt
LASLULU
amazon.com
$22.99
This color block t-shirt gives off a sporty and casual look. It has short sleeves, a color block design, a round neck, and an overall loose fit. Choose your favorite colorway from 12+ options.
6
Essentials Twist Sleeve T-Shirt
Amazon Essentials
amazon.com
$18.30
Thanks to its chic twist sleeve design, this classic shirt is perfect for a brunch date. It has a lightweight fit for comfortable everyday wear and hugs the body for a flattering look. "I love this shirt! I like the stretch and added little detail with the puff sleeve," wrote one reviewer.
7
X-Temp V-Neck T-Shirt
Designed with a unique X-Temp technology, this t-shirt will adapt to your body temperature and keep you cool and dry all day long. It also has a UPF rating of 40+ for protection against UV rays.
8
Casual Print Top
PrinStory
amazon.com
$16.13
Spruce up your t-shirt collection with the addition of an animal print pick. The leopard print shirt features a v-neck cut, front pocket at the chest, and loose-fitting short sleeves."This is a great t-shirt. It's comfortable and casual while looking a bit more pulled together with the pocket and cuffs," wrote one Amazon customer. 
9
V-Neck Button Shirt
LAISHEN
amazon.com
$18.98
This loose t-shirt features a v-neck cut with two-button closures. The material is very soft and stretchy, thanks to its cotton and polyester blend. It also comes in over 36 colors featuring short and long sleeve versions.
10
Jersey Short-Sleeve Crewneck
Daily Ritual
www.amazon.com
$18.90
Looking for a style with some length? This crewneck tunic will be your best bet. It feels soft and stretchy, thanks to its blend of rayon and spandex. Pair it with cozy leggings for a casual fall-inspired lounge fit.
11
3/4 Sleeve Solid Boatneck T-Shirt
Amazon Essentials
www.amazon.com
$16.00
Sophisticated and simple, this slim-fit boatneck t-shirt is perfect for layering under blazers. It's made from a soft terry cotton fabric and has ¾ sleeves for added coverage. "Good quality top and nice soft fabric," wrote one reviewer. "It has been washed once so far and I've seen no stretching, color running, or twisting of seams.
12
SPF Protection Tee
MOERDENG
amazon.com
$13.99
With rave reviews on Amazon, this snug but stretchy t-shirt comes in 30 other colors. It has a soft, quick-dry fabric with superior breathability and moisture management. "I love this shirt, it fits right and feels very comfortable. It doesn't cut your armpits, and it gives you plenty of room in the chest area, so it hangs right," wrote one reviewer. 
13
Casual Scoop T-Shirt
ALLEGRACE
amazon.com
$18.98
Looking for an ultra-soft and stretchy t-shirt? Let us introduce you to this customer-loved tee. It's made from a cotton and polyester blend, making it soft to the touch, and it has a deep and flattering scoop neckline. It also comes in inclusive sizing going up to 4X.
14
Turnback T-Shirt
River Island
nordstrom.com
$15.00
Featuring rolled short sleeves and a slim-fit style, this turnback t-shirt will be your new go-to for dressing up or down. It's made from 100% cotton and feels soft against the skin. "I was pleasantly surprised by this t-shirt. The cap sleeves are flattering, the material is substantial enough, and the price is great," wrote one Nordstrom customer.
15
'Work Hard' Graphic Tee
SUB_URBAN RIOT
www.nordstrom.com
$34.00
Let your shirt do the talking! This graphic tee is not only cute, but also speaks the truth. "I love this tee, especially under a sweater! It feels soft and fits slightly loose," wrote one reviewer.
16
Haven Oversize T-Shirt
Zella
nordstrom.com
$27.00
An oversized tee is a wardrobe staple for those super chill days. And this marble print t-shirt is too cute to skip! It's made from tencel modal, which is a sustainably produced fiber made with closed-loop processing. "I wish this t-shirt was available in more colors because I'd buy them all," wrote one customer. "It's incredibly soft and comfortable. It will be perfect to wear underneath sweaters this winter."
17
Fearless Mock Neck Top
Free People
nordstrom.com
$58.00
"This is a fantastic shirt for everyday wear," wrote one reviewer. Featuring a mock neckline and short sleeves, this shirt runs true to size and comes in six colors. "I love the neckline and dropped shoulder look," another customer wrote.
18
Peplum T-Shirt
CeCe
nordstrom.com
$24.97
This peplum silhouette t-shirt looks stunning when paired with skinny jeans. It has cinched detailing throughout the front and back and a crewneck style. One reviewer noted that the shirt feels ​​"cool and soft" against her skin.
19
All Yours Boyfriend Tee
Lululemon
lululemon.com
$58.00
Designed for those on the move, this All Yours t-shirt is made from a super soft prima cotton fabric. The length comes down to the hip for moderate coverage, and it has a loose fit with extra room to move around freely. Take your pick from seven colors, including a bright carnation red.
20
The Modern Breton Tee
everlane
everlane.com
$52.00
This striped long-sleeve Breton tee has an elevated feel to it. It has a subtle boat neck, a relaxed dropped shoulder, and an easy boxy fit. Wear it to work or your next coffee date. "This is a wonderful shirt, wrote one Everlane customer. "I love the quality and texture of the cotton and the cut. I've received many compliments on it."
21
Lugano Shirt
Wolford
saksfifthavenue.com
$195.00
Dressing comfortably is crucial for us (and we're guessing for you too). Go for this five-star rated luxury sleek stretch knit t-shirt. It has a banded scoop neckline and half sleeves."This has the typical Wolford excellent fit! It travels without wrinkling and can be worn casually with jeans, or with a skirt and jewelry for a night out," wrote one Saks Fifth Avenue customer. 
22
All Day Shortsleeve
Outdoor Voices
outdoorvoices.com
$34.00
Outdoor Voices claims that this is "the softest tee you'll ever wear." And judging by the raving reviews, we couldn't agree more. Designed with a unique lightweight CloudKnit fabric, this t-shirt is great for wearing on hikes, lounging around the house, and anywhere else. 
23
Sea Tee
Allbirds
allbirds.com
$48.00
This soft and lightweight best-seller is made from a blend of natural materials like crab shells to reduce odor and stay fresh between washes. It has key elements like contrast-stitched side seams, a ribbed neck trim, and a subtle embroidered logo on the sleeves. "This is the perfect tee! Not too tight, but form-fitting. And it's warm without being hot," wrote one Allbrids customer.
24
365 Stretch T-shirt
Made from sustainable materials like organic cotton and recycled polyester, this 365 stretch t-shirt is a wardrobe must-have. It fits a little drapey but still gives off a pulled-together look. "The fabric is incredible," wrote one J.Crew customer. "It's soft, has a nice weight (not too heavy) and a nice thickness.
This content is created and maintained by a third party, and imported onto this page to help users provide their email addresses. You may be able to find more information about this and similar content at piano.io
Advertisement – Continue Reading Below